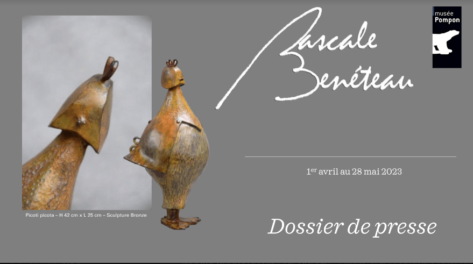 Pascale Benéteau has always wanted to discover the world. It was very young that she decided to travel, first to Africa, where she settled there for a few years.
Later, her path led her to India and then to Japan, where she discovered clay, modeling which quickly became a passion.
Self-taught, Pascale Benéteau does not follow a particular trend. She lets her instinct guide her treating with humor the attitude of the animals she decides to interpret. These years spent abroad will definitely influence her, and define her style, which is very recognizable today.
Her works are exhibited in galleries and fairs, in France and abroad.
Awards:
– 2016 Silver medal sculptures at the SNBA (Salon National des Beaux Arts – Tuileries Paris).
– 2018 1st Prize of the Conseil Départemental du Val d'Oise
– 2022 François Pompon Prize in 2022.
Today she lives and works in Normandy.
"There is not really a very specific project at the start. From the clay, the animal slowly takes shape. It reveals himself little by little. Extracted by my hands from its world to appear in ours. It is each time a highlight, a suspense, an exceptional birth, in the privacy of my studio.
Then comes the final step, which consists of transforming the clay work into a bronze with a delicate patina."
"Animals are unique beings and the bond woven between them and us can be exceptional. It is therefore quite naturally that I chose them as the main theme.
The animal world is essential to our life. It is to pay homage to it that I dedicate my work to him. »